Spyglass MTG, LLC Announces Microsoft Adoption and Change Management Advanced Specialization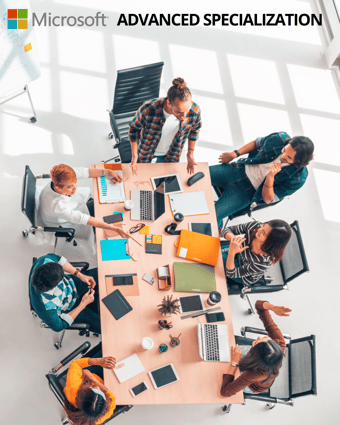 Lincoln, Rhode Island, October 14, 2020 – Spyglass MTG, LLC is excited to announce the achievement of the Microsoft Adoption and Change Management Advanced Specialization. This means that Spyglass meets the highest standards for service delivery and support in this area. Spyglass is made up of industry-leading experts who have extensive experience and proven success in providing adoption and change management services while driving Microsoft 365 usage and organizational change.
When you are adopting a new technology, a smart change management strategy is imperative to the successful rollout. As part of the Adoption and Change Management process, Spyglass aims to empower employees to use and understand Office 365 tools and gain great value from them. Common criteria and goals for the process include increased user adoption, reduced operating costs, increased productivity, improved collaboration, and improved employee engagement.
Spyglass MTG follows a set of best practices for change management with Microsoft technologies. They identify your key stakeholders, champions, and user profiles while also identifying and selecting your business scenarios. Spyglass conducts a pilot that includes business users, champions, and IT professionals. They will design, launch, and manage your adoption campaign to ensure ultimate success. Finally, Spyglass will help you build a champion program alongside your service deployment. They can create a method for employees to provide standard feedback to help you measure and share success.
Adopting new technologies and managing change is an ongoing activity for companies. Spyglass MTG will help you embrace change and use it as a tool for long-lasting success.
About Spyglass MTG
Spyglass MTG (Microsoft Technology Group) is a consulting firm focused on helping customers get the most out of their Microsoft investments. For over 15 years, we've closely partnered with Microsoft to bring their vast and expanding suite of enterprise solutions to our clients. No matter what part of your journey you are on from initial design through implementation, upgrade or maintenance, Spyglass can help pave your way. We leverage proven methodologies, migration tools and expert consultants to architect, build, deploy, migrate to, and manage Microsoft solutions. Whether you are deploying or upgrading M365, implementing Azure, deploying Teams, building a SharePoint Site, developing a Security or Governance Model, designing a Modern Warehouse or BI Solution, or developing AI apps on the Power Platform, we can help!
Contact
For more information contact Spyglass MTG at info@spyglassmtg.com