Are you looking for a full-service IT provider that can provide your organization with the most up-to-date technology solutions and consulting services? Look no further than Spyglass MTG LLC., located in Lincoln, Rhode Island. Regardless of where your organization is located geographically, we have the expertise and resources to provide you with the best solutions for your business.
Who We Are
Spyglass is a Specialized Consulting firm focused on helping clients select, architect, implement, migrate to and manage their Microsoft Technology. We specialize in delivering Data and AI Transformation Services on the Microsoft Clouds. We have over 25 years of onshore consulting experience with over 18 years as a Microsoft Gold Partner. Since Microsoft has transitioned to Microsoft Solutions badges, we now have 5 Microsoft Solutions badges and 5 Advanced Specializations:

Spyglass is also a licensed Managed Service Provider (MSP), providing a full range of IT solutions. Our experts can provide services and consulting throughout all points of IT project lifecycles, including strategy, design, implementation, migration, optimization, and support. We can also offer customized IT support solutions based on your organization's needs, which includes helpdesk support, security updates, patching, cloud support, and full IT support.
Spyglass is a direct Cloud Solution Provider (CSP) as well! This means that we can directly provide cloud service licensing for your business. Adding or adjusting licensing can easily be done the same day through our self-service portal or directly through us. With larger CSP companies, licenses can take weeks to be added or you could end up paying for unused licenses if they aren't removed in time. Another huge benefit that we offer is discounted price models to smaller businesses, which are typically only available for larger firms.
Additionally, we are a Microsoft FastTrack Ready Partner, meaning customers with eligible Microsoft 365 subscriptions can take advantage of FastTrack programs with us at no additional cost. FastTrack workshops are coordinated with interactive presentations and guided walkthrough demonstrations for various Microsoft implementations. Through Microsoft, we can provide workshops that are customized to your organization's own needs or plans. At no cost to you, FastTrack programs can help provide your team with valuable knowledge that is needed to get the most out of subscriptions you're already paying for or plan to implement soon.
What We Can Offer- Spyglass 365
Repetitive daily technical tasks can get in the way of focusing on larger IT implementations or other important work. Many organizations also pay for Microsoft services that they are not taking full advantage of. Whether the features are being left unutilized due to lack of knowledge about them or just a lack of time, it can be difficult for companies to efficiently pinpoint what the next best steps should be in order to drive the most value out of what they are already paying for.
To remedy these situations in a cost-effective way, we offer Spyglass 365 as support on-demand for our clients. Whether you are looking to simply supplement or fully outsource your IT department, our Spyglass 365 support model is custom tailored to each client based on their needs. Small to medium sized businesses taking advantage of Spyglass 365 can get access to a full Microsoft IT department with skilled SME experience at an incredible fraction of the cost.
As part of this service, we can also offer custom Microsoft roadmaps that are designed according to your organization's realistic needs and capabilities. Our experts can assess your current IT infrastructure and draft appropriate timelines for the next most important implementations, migrations, integrations, or updates to your environment. Through direct engagement with our customers, we can adjust these roadmaps to realistically reflect the actual plans and priorities of the organization.
Spyglass 365 services can include but is not limited to: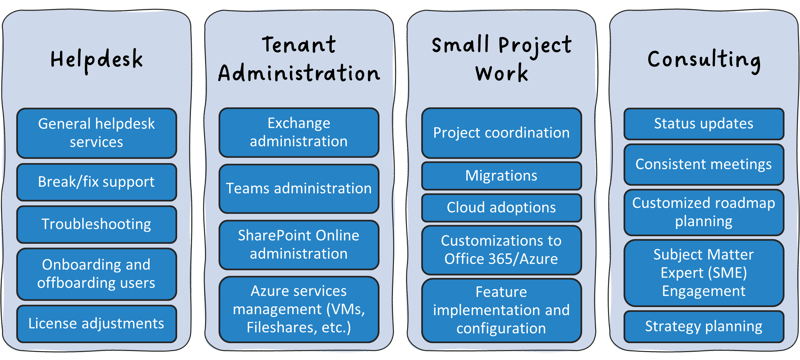 We offer customized partner packages to small and medium businesses at competitive rates. Additionally, as opposed to other typical MSPs who charge based on 30-minute increments, we charge based on 15-minute increments. This allows you to get the most out of your support without small tasks taking up more time than they actually need!
Further benefits to our service include transparency, security, and consistency. Not only do we regularly review and talk with our clients on best strategies to move forward, but we also ensure consistency in processes including user onboarding and offboarding, software installation, device configurations, and much more. Using SLA (Service Level Agreements) standards, we are available within a guaranteed response time.
Why Outsource IT Support to Spyglass?
We are Cloud, Data, and Security experts. We are a Direct Microsoft Cloud Reseller and certified in all Microsoft products. At Spyglass, we are not trying to be everything to everyone. We are focused on our expertise and deliver that to you with our flexible model. We know IT and understand the IT needs of a small to mid-sized organization. Lastly, we are a local New England based company who is dedicated to customer service, with a 90% repeat customer rate.
Spyglass 365 allows you to focus on your business more and worry less. Microsoft Office 365 is essential for your business, but supporting the technology can be a drain on valuable IT resources. Spyglass 365 is the answer to that problem. As our development and support solution for your Microsoft environment, we provide the full Microsoft help that you need.
At Spyglass MTG, we have the expertise and resources you need to manage your IT environment efficiently and confidently. Contact us today to learn more about how our services can help your organization get the most out of your Microsoft subscriptions!