If you are like many organizations, you have rolled out Teams to your enterprise and introduced your users to using Teams for chat, collaboration on documents, and having meetings. Maybe you have added a tab or two to a site in SharePoint or added a Planner tab, as well. Teams is one of the many applications you work with on a daily basis. But are you getting the most out of Teams?
Teams has always been very extendible through the ability to add tabs, bots, and connectors to integrate it with other applications so that it is not just where you go to collaborate on documents or send a message to a colleague, but it can be your working hub, with your key applications available as tabs, application alerts being sent to your channels to keep your team up to date, or sending/receiving data from applications via bots.
In the past year, Microsoft has added even more capabilities to Teams that enable organizations to use Teams as a platform for facilitating many of your business processes right from within Teams! These are all no code/low code tools that anyone can use.

Microsoft Lists
Let's start with Microsoft Lists. These allow you to list and track anything – issues, risks, vacations, vendors, whose turn it is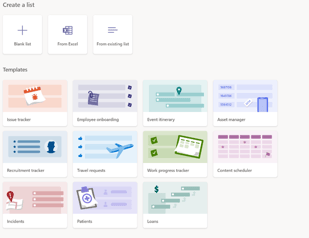 to get the donuts, etc. You define the items and their properties as you might define columns in an Excel spreadsheet. Excel is one the greatest tools and entering data is simple, but maintaining multiple views of the data and trying to manage business processes from items in Excel is difficult. By converting an Excel tracking sheet into a List, you have the ability to have basic data entry forms, multiple views of the data without having to play with filters every time, and each item is easily assignable, trackable and can be hooked to Power Automate flows for assignments, notifications, status updates, and approvals. These lists can now be easily included in your work Teams channels to view and update far more easily than in an Excel workbook.

Approvals
As mentioned above, one of the benefits of moving to Lists is the ability to run Power Automate flows on individual items of the list, including running approval processes for items submitted. Approvals used to be embedded as part of Power Automate, but Microsoft has now separated them out so that an Approvals process can be managed from within a Power Automate Flow, but ad hoc approval requests can also be sent from within Teams. If leveraged from Power Automate, any Power Automate trigger can be used to start an Approvals process in sequence or in parallel, and you define what data is presented in the Approval card.

PowerApps and Dataverse
For more complex business productivity applications with the need for data tables and input forms with more functionality than is possible with a Microsoft List, you can now build custom business applications from within Teams itself using the PowerApps Studio backed with Dataverse tables (built on Azure SQL) to contain the data. These apps can be used as a personal app or published to one or more Teams to be run in a tab.
In many ways, these apps fill the space that Access has in the past – building a personal or working group application with a database and a graphical user interface. If your organization is still supporting Access Apps, these are a perfect candidate for modernization using PowerApps and Dataverse in Teams.

Power Virtual Agents
How many times do you wish you had an automated button to send the same reply to the one question you get asked 50 times a week? Here is that solution! Any department or team can create their own conversational bot that is able to leverage Microsoft's natural language engine (LUIS) to parse user questions/inquiries and direct them to an answer. These bots can then be published out to the organization (with Admin approval) so that users are able to find that insurance link or vacation policy or where the latest product documentation is located simply by asking the appropriate bot!
Call to Action
As mentioned, the tools above are low-code/no-code tools that any organization can leverage to improve their productivity by building business-specific apps on top of the collaborative power of Teams. However, this type of transformation will not "just happen." It is so easy to simply keep doing things as you have always done them.
But take a step back and analyze what your habits are, what your practices are. Where might these tools make a difference?
"I'll create a spreadsheet. Here's a link …".
"Send me an email with the information" or "Let me check my email for that information".

Are you tracking information in email? Track it in a List. Add the email question to a Power Virtual Agent.

"We need to support this legacy app for another year …" Ad infinitum.

Could that app be a PowerApp? What Access applications are you still supporting?

"I've created a channel for the documents"

What other information can you add to that channel to make it more effective? What sites do you need to add as tabs? What information can be added to a Power Virtual Agent to help users find those documents?

"Here's a link to the dev site" or "Here's a link to the application site"
We have learned to use Excel, Access, and SharePoint to extend and facilitate our business process. It's time to think of Teams the same way! Contact us today to discuss how you can take full advantage of all that Microsoft Teams has to offer!