We recently helped a large higher education institution return to work and class safely by creating a way to track who had been tested for the COVID-19 virus. For the classes that had to be held in-person during the fall of the Coronavirus pandemic, testing was a critical factor to keep everyone safe. However, it was an overwhelming task for the university to develop a solution for the delivery and tracking of the test kits. The university was looking for a quick yet reliable way to track how many kits were distributed, to who they were distributed, and the dates of test taken and results.
We helped the university to build out a user-friendly smartphone tracking application by leveraging Microsoft Office 365 applications including SharePoint Online, Power Apps, and Power BI. The Power App allows the staff members to either scan the student/staff ID with their own smartphone or manually enter the ID. Once the ID information has been input, the staff member can begin to track the pickup history of the testing kit. After inputting information such as the pickup locations and number of testing kits being picked up, they can complete and submit the form. The below image is an example of the user-friendly smartphone application that we created.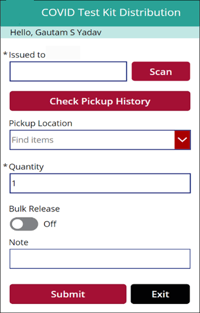 The application saves the data to a SharePoint Online list when the form is submitted. This makes the information easy to digest and view at a larger scale. We helped the application owners generate a Power BI chart/report using the data generated by the Power App from the SharePoint online list. This helped them to track the test kit distribution and manage the inventory. Below are examples of the dashboard with information gathered from their application.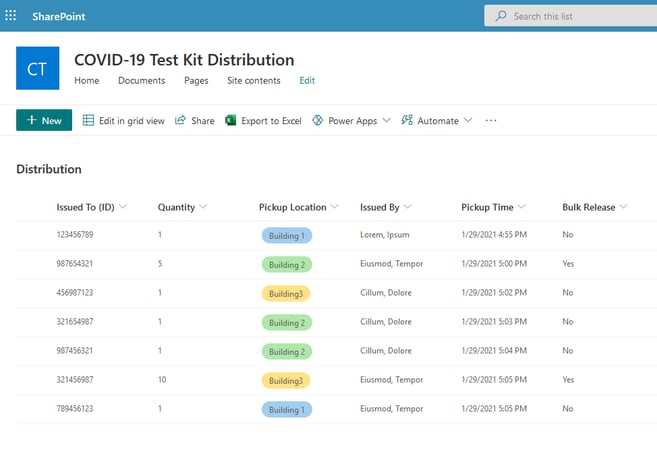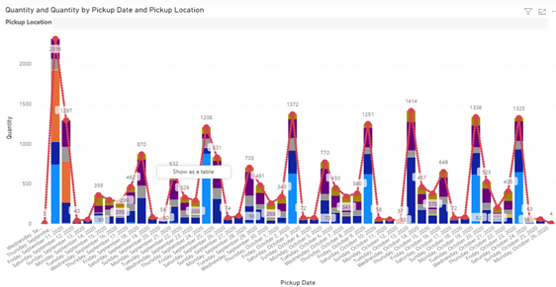 This solution allowed over 100 staff members across the university to scan the ID badges using their smartphones for the test kit distribution and inventory management. This allowed for the school to return to in-person and hybrid classes as safely as possible during the pandemic. This may seem like a daunting and time-consuming process, but we successfully launched this application in just a week for the university! We have the knowledge and experience to help bring you back to normal activities safely as we continue to navigate the COVID-19 pandemic.
We can also easily take this technology and modify it to meet different COVID Testing Tracking requirements for your individual needs. We will have a part two to this blog discussing this in more detail soon!
Want to learn more? Contact us today!