How efficient is your usage of Office 365? We can help you improve it!
When it comes to Office 365 - organizations choose to roll out specific workloads (e.g. OneDrive or Teams) at a pace that makes sense to them. Often times, being so 'workload focused' can cause companies to lose sight of some very important 'umbrella topics' related to overall platform adoption maturity. In these current times, important questions to ask yourself are - is your deployment fully secure? Are there cost savings opportunities now that you have O365?
As part of our new Spyglass 365 offering, we have developed an Office 365 Adoption Maturity Model. We have created a scorecard that allows your organization to be plotted on the curve based on defined scorecard components. It's important to know where you are on the maturity curve - and more importantly, what sorts of actions you should consider to improve your position on the curve.
Being higher up on the curve is better for many reasons. First, it improves security and reduces risk. Next, it maximizes the return on your investment. It also reduces redundant solutions and systems while attracting and retaining talent. We can help you get to the top of the curve if you are not already there!
Office 365 Adoption Maturity Model Levels:
Level 1- Concept
Level 2- Core
Level 3- Enhance
Level 4- Optimized
Level 5- Innovative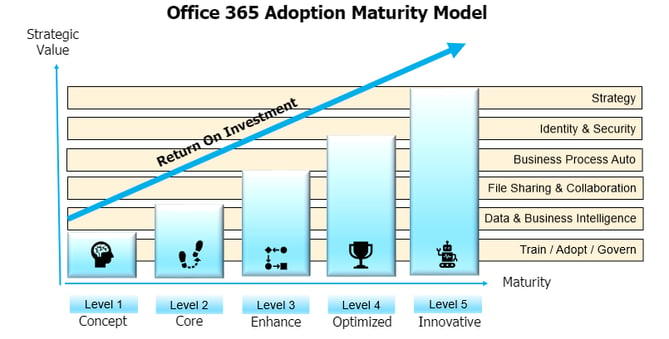 Our Maturity Model scorecard components consist of the following categories:
Strategy
Identity and Security
File Sharing and Collaboration
Business Process Automation
Platform Governance
User Adoption and Training
Data and Business Intelligence
We dive deep into each scorecard component and evaluate where you are on the model and how you can improve. Our Office 365 Adoption Maturity Model is offered as a standalone service or included in our new Spyglass 365 offering, a program that offers a full Microsoft Technology Department at a fraction of the cost!
On Wednesday June 10th from 10am-11am EST, I will be hosting a live webinar to walk you through our new Adoption Maturity Model. Register today!